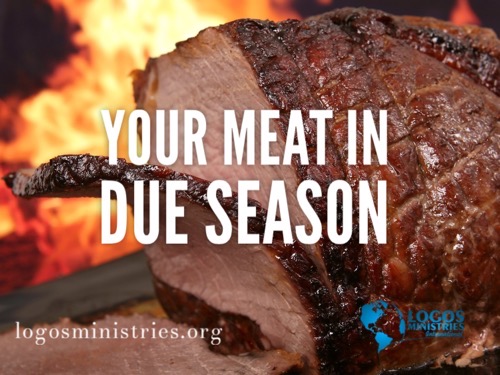 Who then is a faithful and wise servant, whom his lord hath made ruler over his household, to give them meat in due season? ~ Matthew 24:45 KJV
Many times we may read a scripture or a passage and see something new. In those instances we could call those moments "revelation" moments because the Holy Spirit opens our eyes to new knowledge in the Bible. It is exciting because the Lord can show things to you that you have not seen before even though you may have read the passage many times in the past.
In the section leading up to this scripture Jesus is discussing the unknown day and hour when he will return. He gives all these descriptions and then boom! – he slips in this scripture that mentions meat. One might initially think he is referring to meat that you would naturally eat. It can make sense if you see he is speaking about someone who is taking care of his household. But if we look at this spiritually – what can we understand?
The first instance that may come to mind is when the Apostle Paul spoke to the Corinthians about drinking milk and eating meat.
I have fed you with milk, and not with meat: for hitherto ye were not able to bear it, neither yet now are ye able. ~ 1 Corinthians 3:2 KJV
Paul was referring to baby Christians and mature Christians. He was saying that some of them were still not ready to receive the deeper things of God. A baby doesn't begin his life by eating meat. He begins by drinking milk. He/she has no teeth to chew on meat so they must be nourished through milk.
This principle can be applied to believers who are new in the faith. They will not comprehend everything the Lord has given to us in the Bible so we must first learn the basics and as we grow in our relationship with the Lord the Holy Spirit starts to reveal deeper insights of the word of God.
There are some concepts that are difficult to understand but in time the Holy Spirit shows us the deeper meaning. I believe as the time is approaching for our Lord to return he is giving spiritual "meat" to his disciples now. Meat to prepare us for His arrival. The season is now for a spiritual awakening and I pray that your spiritual eyes of understanding will be enlightened to the know the hope of his calling, and what the riches of the glory of his inheritance in the saints. (Ephesians 1:18 KJV)
The season is NOW! Are you ready for your meat? Dig deeper into his word to know and experience more of his love, knowledge and wisdom. He is ready to reveal his secrets to you. They have been hidden FOR you and the time to see and eat them is now. Be blessed and enjoy your time with Him!