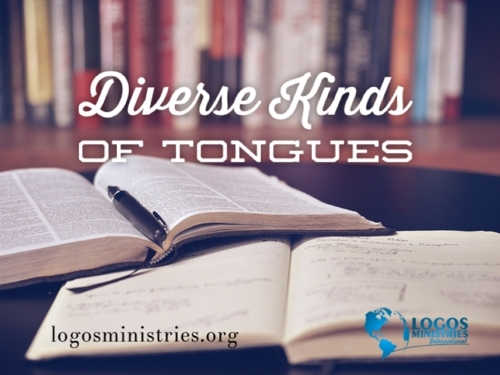 For he that speaketh in an unknown tongue speaketh not unto me, but unto God: for no man understandeth him; howbeit in the spirit he speaketh mysteries. ~ 1 Corinthians 14:2 KJV
What is tongues? Do we need it? Tongues is a mysterious heavenly prayer language to God by the Holy Spirit through us. To answer the second question we should know that Jesus prayed in tongues. If Jesus, being the Son of God, used this gift and because of it was able to do the work of the Kingdom, how much more should we need it as well. It would be wise to have and receive everything God has for us. There are scriptures that mention we will give an account of what we have done and I certainly don't want to lack in any gift of blessing God has provided us.
Then when Mary was come where Jesus was, and saw him, she fell down at this feet, saying unto him, Lord, if thou hadst been here, my brother had not died. (33) When Jesus therefore saw her weeping, and the Jews also weeping which came with her, he groaned in the spirit, and was troubled, (34) And said, Where have ye laid him? They said unto him, Lord, come and see. ~ John 11:32-34 KJV
In studies about the heavenly prayer language, it is found that some translations do not have this scripture written the same way it is in this English version. Several say he was bothered in his spirit, some only say he was troubled, still others say "deeply moved". But the KJV version actually shows that he "groaned in the spirit". In Romans 8 it also mentions the spirit intercedes for us with "groanings". (Romans 8:27) A good way to describe it is it is definitely sounds that are not words.
The word "kinds" found in 1 Corinthians 12:10 is the Greek word "genos" which means various kinds or purposes. This gift is therefore used for various purposes that are deemed necessary by the Holy Spirit. It is related to the assembly of Christians where they come together. There are 3 kinds of tongues that manifest in the assembly:
Exhortation – With this manifestation, the Holy Spirit speaks to the church words of comfort, edification and encouragement. This tongue does require an interpretation of the Holy Spirit by the gift of Interpretation of Tongues.
Intercession – With this manifestation, the Holy Spirit intercedes on behalf of a person, a situation or the whole meeting of believers where prayer is urgently required.
Praise – With this manifestation, the Holy Spirit introduces, directs, effects or harmonizes praise within the assembly of believers. Interpretation is not always necessary with this.
At the house of Cornelius, a centurion, every member of that house was baptized and they all prayed in tongues. This account is found in Acts 10. So this was not a gift only for the disciples. It is for all who wish to receive the gift from God.
There is more in-depth explanation needed to cover divers kinds of tongues. So we will continue on another setting but we hope you understand the gift of Tongues is manifested in different ways as the Holy Spirit sees fit and for whatever is needed for that particular time.