If a man say, I love God, and hateth his brother, he is a liar: for he that loveth not his brother whom he hath seen, how can he love God whom he hath not seen? 1 John 4:20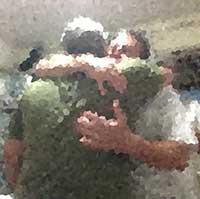 ~ The Lord never ceases to amaze me! Just yesterday this scripture crossed my mind during some quiet time with Him and today I read it again. How many times have we seen someone do something we cannot stand? Sometimes we hear people on the news that do hideous crimes and we start to hate them. Right in those moments we start to prove the scripture true. That we are liars!
Think about this for a moment. If we truly love our neighbor (brother) we would start praying for them to encounter God in a mighty way. We would feel compassion that this man/woman has been corrupted by this fallen world in some form and even satan. Never think they cannot be reached! You do your part praying truly from your heart because of love for them. You never know, you may be surprised to see them saved when you stand before Jesus but it was because you truly loved.