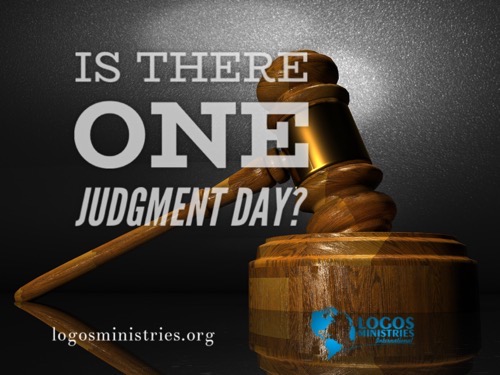 Is there one judgment day or are there more? This is a question that may seem hard to understand if you grew up in the church always hearing about judgment DAY. We will dive in to the scriptures to see what it reveals to us.
This study began because of a particular scripture in the book of Revelation. One might say, if we are saved why should we worry about one day or two days of judgment? Our response should be it is always good to know as much about the Lord and His word as possible. Besides, it is written in the word of God that we should look to those things above.
If ye then be risen with Christ, seek those things which are above, were Christ sitters on the right hand of God. (2) Set your affection on things above, not on things on the earth. Colossians 3:1-2 KJV
If you are truly a believer you will seek those things from above. Jesus himself focused on those things above and he is our example.
And they took away the stone from the place where the dead was laid. And Jesus lifted up his eyes, and said, Father, I thank thee that thou hast heard me. John 11:41 KJV
His disciples learned to look up as well.
And while they looked stedfastly toward heaven as he went up, behold, two men stood by them in white apparel; Acts 1:10 KJV
Why do we look up? We are expecting something from him and we are expecting him to return.
But the rest of the dead lived not again until the thousand years were finished. This is the first resurrection. Revelation 20:5 KJV
Have you ever wondered why the scripture says "the first resurrection"?
As believers we know Jesus is coming back again. We know there will be a resurrection but believers and unbelievers will not be raised at the same time. We should also know he is not coming back as a little, submissive lamb. He is coming back as the King of Kings and the Lord of Lords.
When he arrives he will have his army and his saints will follow. If you are not alive when He arrives you will rise up to meet Him when the trumpet sounds. If you are alive when he returns your body will be instantly transformed and you will meet Him in the air as He descends. This will be heading towards the beginning of his reign of a thousand years known as the "millennial reign". Before he begins his rule he will set up His government and this will need to be set up first.
For the time is come that judgment must begin at the house of God: and if it first begin at us, what shall the end be of them that obey not the gospel of God?(18) And if the righteous scarcely be saved, where shall the ungodly and the sinner appear? 1 Peter 4:17-18 KJV
As the scripture states judgment will begin with the people of God or the "House of God". Now this is not a judgment for salvation but based on what you did in your life as a believer.
But the day of the Lord will come as a thief in the night; in the which the heavens shall pass away with a great noise, and the elements shall melt with fervent heat, the earth also and the works that are therein shall be burned up. 2 Peter 3:10 KJV
Now this I say, brethren, that flesh and blood cannot inherit the kingdom of God; neither doth corruption inherit incorruption. (51) Behold, I shew you a mystery; We shall not all sleep, but we shall all be changed, (52) In a moment, in the twinkling of an eye, at the last trump: for the trumpet shall sound, and the dead shall be raised incorruptible, and we shall be changed. (53) For this corruptible must put on incorruption, and this mortal must put on immortality. (54) So when this corruptible shall have put on incorruption, and this mortal shall have put on immortality, then shall be brought to pass the saying that is written, Death is swallowed up in victory. 1 Corinthians 15:50-54
In a moment we, the believers in Christ who are still alive, shall be changed at the sound of the trumpet. Our bodies will no longer be corruptible. This means our body will not die, or grow old. We will be as God intended for us to be.
But I would not have you to be ignorant, brethren, concerning them which are asleep, that ye sorrow not, even as others which have no hope. (14) For if we believe that Jesus died and rose again, even so them also which sleep in Jesus will God bring with him. (15) For this we say unto you by the word of the Lord, that we which are alive and remain unto the coming of the Lord shall not prevent them which are asleep. (16) For the Lord himself shall descend from heaven with as shout, with the voice of the archangel, and with the trump of God: and the dead in Christ shall rise first: (17) Then we which are alive and reman shall be caught up together with them in the clouds, to meet the Lord in the air: and so shall we ever be with the Lord. (18) Wherefore comfort one another with these words. 1 Thessalonians 4:13-18 KJV
Once Jesus is on earth again he will establish his Kingdom. He will put things in order and appoint people in places to rule with Him. This is known as the judgment seat of Christ.
* What Is The "Bema" Seat? *
The Greek word for seat is known as "bema". It is translated as a court or tribunal seat. This platform could be either public or private.
But why dost thou judge thy brother? or why dost thou set at nought thy brother? for we shall all stand before the judgment seat of christ. Romans 14:10 KJV
The judgment seat of Christ is mentioned above. This is where Jesus rewards his followers. There are a couple of parables that also paint a picture for us to understand what happens upon his return in Matthew and Luke.
And as they heard these things, he added and spake a parable, because he was nigh to Jerusalem, and because they thought that the kingdom of God should immediately appear. 12) He said therefore, A certain nobleman went into a far country to receive for himself a kingdom, and to return.13) And he called his ten servants, and delivered them ten pounds, and said unto them, Occupy till I come. 14) But his citizens hated him, and sent a message after him, saying, We will not have this man to reign over us. 15) And it came to pass, that when he was returned, having received the kingdom, then he commanded these servants to be called unto him, to whom he had given the money, that he might know how much every man had gained by trading. 16) Then came the first, saying, Lord, thy pound hath gained ten pounds. 17) And he said unto him, Well, thou good servant: because thou hast been faithful in a very little, have thou authority over ten cities. 18) And the second came, saying, Lord, thy pound hath gained five pounds. 19) And he said likewise to him, Be thou also over five cities. 20) And another came, saying, Lord, behold, here is thy pound, which I have kept laid up in a napkin: 21) For I feared thee, because thou art an austere man: thou takest up that thou layedst not down, and reapest that thou didst not sow. 22) And he saith unto him, Out of thine own mouth will I judge thee, thou wicked servant. Thou knewest that I was an austere man, taking up that I laid not down, and reaping that I did not sow: 23) Wherefore then gavest not thou my money into the bank, that at my coming I might have required mine own with usury?24) And he said unto them that stood by, Take from him the pound, and give it to him that hath ten pounds. 25) (And they said unto him, Lord, he hath ten pounds.) 26) For I say unto you, That unto every one which hath shall be given; and from him that hath not, even that he hath shall be taken away from him. 27) But those mine enemies, which would not that I should reign over them, bring hither, and slay them before me. Luke 19:11-27 KJV
The Word of God shows us the Lord will be presenting different degrees of rewards for the believers according to what they have done with what the Lord gave us. This will be a public judgment seat.
In ancient times it was a high elevated platform. An example of a private bema seat is when the Apostle Paul was to stand before Agrippa and Festus.
Then Agrippa said unto Festus, I would also hear the man myself. Tomorrow, said he, thou shalt hear him. Acts 25:22 KJV
For we must all appear before the judgment seat of Christ; that every one may receive the things done in his body, according to that he hath done, whether it be good or bad. 2 Corinthians 5:10 KJV
In Olympic times the successful competitors would gather to receive their rewards or crowns. This was not a judicial bench but a reward seat. If you remember the Apostle Paul described our faith journey as a race. We are running a life race so to speak.
Wherefore seeing we also are compassed about with so great a cloud of witnesses, let us lay aside every weight, and the sin which doth so easily beset us, and let us run with patience the race that is set before us, Hebrews 12:1 KJV
We are going to face challenges and we need to have patience to arrive to the finish line. Only through patience and perseverance will we get there.
* The Day of The Lord *
Notice v10 Peter tells us of a "day of the Lord". And then in verse 12 he tells us a "day of God". The Greek word used for Lord is "kyrios". The Strong's dictionary defines this word as he to whom a person or thing belongs, about which he has power of deciding; master, lord.
But the day of the Lord will come as a thief in the night; in the which the heavens shall pass away with a great noise, and the elements shall melt with fervent heat, the earth also and the works that are therein shall be burned up. 2 Peter 3:10 KJV
* The Day of God *
Peter reveals there is a "day of God". This does not appear to be the Lord Jesus but God the Father. The Greek word for God is "theós".
Looking for and hasting into the coming of the day of God, wherein the heavens being on fire shall be dissolved, and the elements shall melt with fervent heat? (13) Nevertheless we, according to his promise, look for new heavens and a new earth, wherein dwelleth righteousness. 2 Peter 3:12-13 KJV
In this occasion a new heaven and a new earth can only happen when Jesus has removed all of his enemies. Not only is Satan the Lord's enemy but those who follow him and death. This "day of God" when we see a new heaven and a new earth comes after the final judgment in the Great White Throne in Revelation.
And I saw a great white throne, and him that sat on it, from whose face the earth and the heaven fled away; and there was found no place for them. And I saw the dead, small and great, stand before God; and the books were opened: and another book was opened, which is the book of life: and the dead were judged out of those things which were written in the books, according to their works. Revelation 20:11-12 KJV
* Reward *
And, behold, I come quickly; and my reward is with me, to give every man according as his work shall be. Revelation 22:12 KJV
In the judgment seat of Christ he will be giving rewards to his followers as mentioned earlier.
Moreover it is required in stewards, that a man be found faithful. 1 Corinthians 4:2 KJV
Are you being faithful with the gifts God gave you?
What are you doing with them?
Are you being a faithful steward?
Are you using them to touch the lives of others who need to know God?
You are His witness! You are the one that helps people experience the power of God, his love, his miraculous healing, deliverance from bondage, his peace and his prosperity. He gave you time, talent, and resources.
Henceforth there is laid up for me a crown of righteousness, which the Lord, the righteous judge, shall give me at that day: and not to me only, but unto all them also that love his appearing. 2 Timothy 4:8 KJV
Those crowns of righteousness are for those believers who will be ruling with the Lord Jesus. Those are believers who did not faint or grow weary for the things of the Kingdom. The devil is out there being an adversary. He is putting stumbling blocks in front of you.
If you aren't facing any challenges or stumbling blocks you may be going in the same direction as the enemy. He does not need to throw any challenges towards you. You are not affecting his dark kingdom.
Marvel not at this: for the hour is coming, in the which all that are in the graves shall hear his voice, (29) And shall come forth; they that have done good, unto the resurrection of life; and they that have done evil, unto the resurrection of damnation. John 5:28-29 KJV
This scripture reveals there is a time coming when the dead in Christ will rise up to the resurrection of life. The resurrection of the damnation will be at another time. These are two separate events. If you remember in Revelation 20:5 the first resurrection was mentioned. If you rise in this you are blessed.
But the rest of the dead lived not again until the thousand years were finished. This is the first resurrection. Revelation 20:5 KJV
Notice it says the rest of the dead did not live until the thousand years were finished. This is showing us the second resurrection occurs after the millennial reign. This leads us to the judgment of the wicked or non-believers. We will continue this study in part 2.