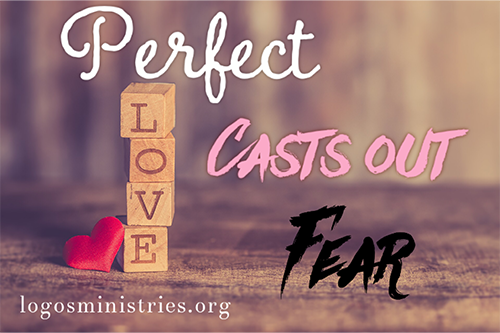 There is no fear in love; but perfect love casteth out fear: because fear hath torment. He that feareth is not made perfect in love. ~ 1 John 4:18 KJV
It's true that our biggest enemy is fear these days. Just as it was a problem with Adam and Eve in the garden of Eden, so it still is with us today. We all experience some kind of fear and we must face fear. The key is to be able to overcome it! Some may ask, "But how?". The answer is found in the Word of God.
I have experienced fear and I overcame it using the Word of God. I clung to the Lord with dear life and did not let go. I received a bad report many years ago but I know that fear does not come from the Lord. The moment I began to feel this fear rise up in me I recognized it and then began to pray in the spirit. I prayed because the Bible tells us that we build ourselves up in the spirit when we pray.
But ye, beloved, building up yourselves in your most holy faith, praying in the Holy Ghost, ~ Jude 1:20 KJV

Keep yourselves in the love of God, looking for the mercy of our Lord Jesus Christ unto eternal life. ~ Jude 1:21 KJV
We can overcome anything when we are grounded in love. This is so profound because everything in the spiritual realm stems from this love we have from the Lord. The Apostle John knew he was loved. He wrote that in his gospel many times. "The disciple whom Jesus loved." These words are so deep in understanding! Through this understanding of love we can see the Apostle John overcome many adversaries who tried to kill him. It was recorded that the Romans threw him in boiling oil and he did not suffer any harm. All the audience of Colosseum were converted to Christianity upon seeing this miracle. After this, he was banished to the island of Patmos where he lived out the rest of his years in prison.
His revelation of love was so powerful the enemy could not kill him. We need to understand this same love that has been freely given to everyone. Love is the key to seeing the spirit realm become a reality here on earth. If we don't have love we are nothing.
Anytime I have felt fear, I quickly recite the scripture that says perfect love casts out fear. And miraculously I experience it each time. Freedom from fear! Jesus taught us:
And ye shall know the truth, and the truth shall make you free. ~ John 8:32 KJV
So if you today are experiencing fear because of the Corona virus please focus on the scripture in 1 John 4. Mediate on it and don't let go! The Lord will help you push this fear out and replace it with confidence and trust in Him. Hallelujah!