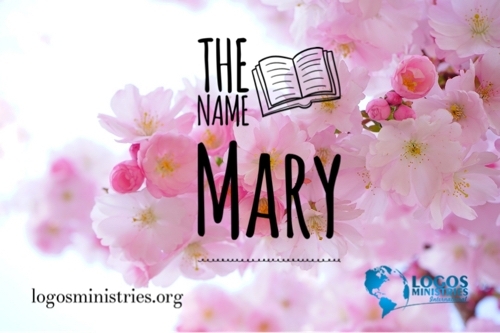 Have you noticed that there are generations that seem to grow fond of a name and many people tend to have that name from a certain era? Upon doing a study in the Bible, I found that the name "Mary" was used quite often. In my search to find out who was present at the cross I discovered several ladies named Mary.
And many women were there beholding afar off, which followed Jesus from Galilee, ministering unto him: Among which was Mary Magdalene, and Mary the mother of James and Joses, and the mother of Zebedee's children. ~ Matthew 27:55-56 KJV
Just in this scripture alone there are 2 Marys that are obvious. So in this passage we see Mary, the mother of Jesus and his two brothers, James and Joses and Mary Magdalene. You will soon find out the first name of the mother of Zebedee's children.
And when the centurion, which stood over against him, saw that he so cried out, and gave up the ghost, he said, Truly this man was the Son of God. (40) There were also women looking on afar off: among whom was Mary Magdalene, and Mary the mother of James the less and of Joses, and Salome; (41) (Who also, when he was in Galilee, followed him, and ministers unto him;) and many other women which came up with him unto Jersusalem. ~ Mark 15:39-41 KJV
Now in this passage we see the name of Zebedee's children is called "Salome".
Now there stood by the cross of Jesus his mother, and his mother's sister, Mary the wife of Cleophas, and Mary Magdalene. (26) When Jesus therefore saw his mother, and the disciple standing by, whom he loved, he saith unto his mother, Woman, behold thy son! (27) Then saith he to the disciple, Behold thy mother! And from that hour that disciple took her unto his own home. ~ John 19:25-27 KJV
On this final passage we see the third Mary and we can figure out Salome is Mary's sister. We also receive a little more information about who she is married to. I suppose you need a distinction of names when there are several people of the same name.
So here are the 3 Mary's:
Mary = the mother of Jesus, Joses and James
Mary Magdalene
Mary = the wife of Cleophas
Salome = Mary's sister, the mother of Zebedee's children (John & James), wife of Zebedee
Here's another little tit bit revealed about who Cleophas was. He was one of the two men who spoke about Jesus on the road to Emmaus to the resurrected Jesus.
And it came to pass, that, while they communed together and reasoned, Jesus himself drew near, and went with them. (16) But their eyes were holden that they should not know him. (17) And he said unto them, What manner of communications are these that ye have one to another, as ye walks and are sad? (18) And the one of them, whose name was Cleopas, answering said unto him, Art thou only a stranger in Jerusalem, and hast not known the things which are come to pass there in these days? ~ Luke 24:15-18 KJV
Thought it would be fun to share something new that isn't usually taught. Hope you enjoyed a little eye opener! Have a blessed day!