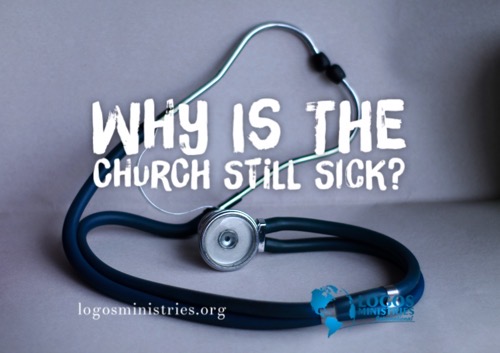 Is any sick among you? let him call for the elders of the church; and let them pray over him, anointing him with oil in the name of the Lord:  James 5:14 KJV
Have you ever wondered why there are people still sick in church if Jesus died on the cross to heal us? This has been a question on many people's mind throughout the centuries especially if someone was prayed over and nothing happened. Was it because God did not want them healed? This has often been the response to this question. But we must first understand God is love!
Why would He send his son Jesus to suffer and die on the cross so he could now refuse a person healing in their body? Did Jesus ever deny or reject anyone from receiving healing when he walked with the disciples? There was never an instance Jesus said, no brother! No healing for you today! You need to suffer a little more then I can heal you. This sounds so upsurd and cruel doesn't it? 
* Have Faith *
So why is the church still sick? There are several reasons and variables that inhibit us from receiving complete restoration. First and foremost, we must all still access this healing by faith. Without faith a person won't receive anything. There have been people who profess they have faith for healing but didn't receive it or even died. Why is this? If one can understand there are variables that block his healing power we could see more healing and liberty from disease. The more we understand his word the more it will be active in our lives. 
* The Thief *
One key point to always remember is God wants you well! He doesn't want to see you or anyone sick. He created life and joy. There is one who is the total opposite and we know his name as Satan. He is the father of lies and he steals, kills and destroys. He has been since the beginning.
The thief cometh not, but for to steal, and to kill, and to destroy: I am come that they might have life, and that they might have it more abundantly.  John 10:10 KJV
Many people seem to forget the thief or commonly known as "Satan" is the one who kills and destroys. If the church can understand this from the start we may see more healings occurring. 
* Unbelief *
And he did not many mighty works there because of their unbelief. Matthew 13:58 KJV
And he could there do no mighty work, save that he laid his hands upon a few sick folk, and healed them. Mark 6:5 KJV
Unbelief is a huge variable in blocking God's healing power in our lives. If Jesus could not do many mighty works because of unbelief we must remember this can happen today. 
* Unforgiveness *
What else can impede or block God's power? Unforgiveness is another major problem that can block the power of God from working in our lives. If we cannot forgive someone for what they have done to us then how do we expect to be healed. Unforgiveness is poison and it will destroy you from the inside. We were created to love but we must love unconditionally without any grudges or reservations. 
14) For if ye forgive men their trespasses, your heavenly Father will also forgive you: 15) But if ye forgive not men their trespasses, neither will your Father forgive your trespasses. Matthew 6:14-15 KJV
If we do not forgive someone we are hurting ourselves. We need to give forgiveness and in return we receive what our body needs. We are the variable, not God. There is a saying you are drinking poison and expecting the other person to feel the effects. It won't happen!
* Fear * 
Another blocker in our lives is fear. The opposite of faith is fear. If a person is fearful, lets say of dying, then this will also inhibit God's power from working in us. The bible tells us not to fear. This is what the enemy uses against us. If we experience fear we must remember what the word of God tells us. 
There is no fear in love; but perfect love casteth out fear: because fear hath torment. He that feareth is not made perfect in love.  1 John 4:18 KJV
We need to meditate on this day and night when we go through some illness or trial where we are experiencing fear. Perfect love casts out fear. His perfect love for you casts out the fear that the enemy uses to his advantage. When you are true to yourself about fear you are being humble in the sight of God. He will always encourage you not to feel the fear but to trust in Him. The victory is yours! He wants you to receive it! 
*Be Teachable and Remain Humble *
Humble yourselves in the sight of the Lord, and he shall lift you up. Jame 4:10 KJV
This may seem like it would not affect us but it does. If we are not teachable then how can we receive. We must always keep ourselves in a state of humbleness and be teachable. If God can use a child to heal us then we need to be in a position to hear what he is saying and receive. 
The Holy Spirit can help us but if we think we know it all then how can we receive. If we are not well then obviously we must learn something to help us out of the situation we are in. Our identity is being attacked. This doesn't mean God is teaching us a lesson with sickness. On the contrary, we need to learn more about Him. We cannot act like we know it all. If you know a scripture it doesn't matter. Meditate on it and God will show you a deeper meaning of it. If a person is sick it can be from stupidity by overworking our bodies, or an attack of the enemy and we need to stand our ground with the Word of God. 
* Not Loving Yourself * 
God is love. He does not hate anyone. He is the essence of love. If you who were created in God's image does not love yourself then you are rejecting what God created. This can manifest itself as an autoimmune disease. Your own body is attacking itself because you don't love yourself. This is powerful!
He that loveth not knoweth not God; for God is love. 1 John 4:8 KJV
You can give entry to the enemy by not loving. It can be a lack of love for someone or even for yourself. This is a work of the enemy.
For where envying and strife is, there is confusion and every evil work. James 3:16 KJV
Hopefully these examples can give you some insight into why people or maybe yourself is not healed. We need to have an open heart to hear what the spirit says. He is always interested in our best. He wants our soul, spirit and body whole and healthy. Let us not give place to the enemy to destroy the temple of God.