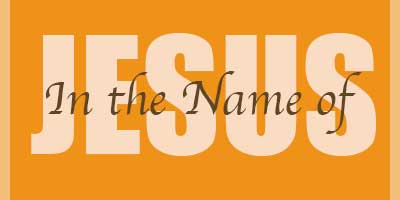 The name of the Lord is a strong tower: the righteous runneth into it, and is safe. ~ Proverbs 18:10 KJV
Did you know there is power in just His name alone? Yes, that's true! God the Father has given honor and glory to His son Jesus and has placed His name above every name. That means everything that has a name must submit to Him. That includes diseases, illnesses and even pain is a name and must submit to the name of Jesus. Demonic spirits must also obey His name and flee from you. Jesus has given us this power.
And when he had called unto him his twelve disciples, he gave them power against unclean spirits, to cast them out, and to heal all manner of sickness and all manner of disease. ~ Matthew 10:1
So the bible tells us that he gave his disciples power. I know what you are saying to yourself, "but those were the disciples." Yes it's true but Jesus is the same as he was then as he is now. That power is still available to us as believers.
Jesus Christ the same yesterday, and today, and for ever. ~ Hebrews 13:8
That's good news! That means it applies to you and me today. So start experiencing Jesus' name today! A simple but effective and powerful prayer using the Lord's name is like this: "In the name of Jesus I command pain to go!". That simple? Yes! Pain is a name and it has been placed below the name of Jesus. So in essence that pain must leave.
Wherefore God also hath highly exalted him, and given him a name which is above every name: ~ Philippians 2:9
Unfortunately, many churches today, because of a lack of knowledge, do not teach about the power of His name. I know because I was a person that went to church and never heard this basic principle taught. Now that I have experienced it I am happy to share this great news with others. Let me share a quick testimony of how I applied this principle in my life and experienced the power of His name.
One day I was crying in my room and I went to grab a tissue. I noticed it was getting hard to breathe because my nose began to close up. If you have shed a tear you know what I mean. So quickly and angrily I said, "In the name of Jesus I command my nose to open up now!." To my surprise instantly my nose was open and I could breathe normally. In my amazement I began to praise God and forgot why I was upset to begin. I had heard about the power of His name but had never used His name like this on me for anything. This was another moment in my life where I got to experience the Word of God.
We have both experienced and prayed for others using the name of the Lord Jesus. If you simply believe you can experience the power of His name too. Go try it today and you will have your own testimonies to give to others!